BJP stalls Parliament over reports of Robert Vadra's land deals
Edited by Amit Chaturvedi
Mar 12, 2013 14:35 (IST)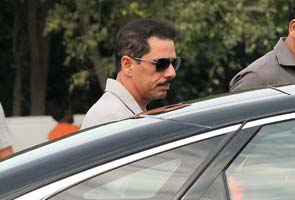 New Delhi: Both Houses of Parliament were adjourned today as the BJP attacked the government over allegedly illicit land deals involving Robert Vadra, the son-in-law of Congress president Sonia Gandhi.

Mrs Gandhi was in the Lok Sabha when BJP parliamentarians held up a placard that said, "Finance Minister, adopt the formula of son-in-law; earn sitting at home and reduce losses."

Leader of the Opposition Sushma Swaraj encouraged disruptions by her party's members till the House was adjourned.

The BJP had in the morning asked for a discussion in both Houses on reports that Mr Vadra was given sweetheart land deals in Haryana and Rajasthan, where his mother-in-law's party is in power.


More News From